What travelers love about this cruise
Style: Modern
5 star standard services with professional staff
Transferring only 2 hours driving from Hanoi to Azalea Cruise by luxury minivan
Ideal for families, couples or group of friends
Spacious luxurious cabins with full facilities and amenities
All Azalea Cruise cabins equipped with large private balconies for beautiful views of Halong Bay
Exploring "off the beaten track" route in Lan Ha Bay and Halong Bay
Visiting the amazing natural Trung Trang Cave
Azalea Cruise is one of the newest modern luxury 5* cruise on Halong bay, Azalea Cruise is expected to be launched in November, 2017. Azalea Cruise is a steel ship with 21 luxurious suite cabins at the minimum size of 28sqm accommodating at most 4 guests (2 adults and 2 chidlren). All Azalea Cruise's cabins live up to the standards of a 5 star cruise in terms of facilities and amenities...
Azalea Cruise - Vietnam Read more... Hide
Choose your package & check rates now
Room Types
Max
Rates

Deluxe Cabin With Balcony

Room with balcony

12 Rooms
Sea view
Double/twin
28 m²
First Deck

Check rates

More info »

Family Deluxe Cabin With Balcony

Room with balcony

Connecting room

2 Rooms
Ocean view
Family
56 m²
First Deck

Check rates

More info »

Premium Deluxe Cabin With Balcony

Room with balcony

6 Rooms
Ocean view
Double/twin
28 m²
Second Deck

Check rates

More info »

Family Premium Deluxe Cabin With Balcony

Room with balcony

Connecting room

2 Rooms
Ocean view
Double/twin
56 m²
Second deck

Check rates

More info »

Azalea Exclusive Suite

Room with balcony

2 Rooms
Ocean view
Double
45 m²
Second Deck

Check rates

More info »
Description
Being a sister cruise of Orchid Cruise, Azalea is also a luxurious overnight cruise accommodating 20 cabins on board with a private balcony on each cabin overlooking the World Heritage Site. Possessing the finest amenities with the most professional crew as her sister, Azalea is a promisingly great alternative of the luxury segment for those who wish to explore Lan Ha Bay with a first-class leisure trip.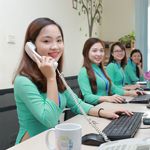 We are Inside Travel Experts. We know our land Best.
Let us help you!
We are always here to help you. Please kindly tell us anything about your trip: How many people, Style, Destinations, Duration, Departure date... We will send you the best offers quickly!
SEND US YOUR REQUEST