What travelers love about this cruise
Style: Modern and boutique
Newest and largest cruises in Halong Bay with only 18 rooms - expectantly launched this December (on 23 Dec 2017)
Japanese Marine engine and generator system
Japanese steel used for the whole cruise
Inherit excellent service from its elder sisters - Signature and Signature Royal Cruises
Perfect choice for not only couples but also big families with children
Large and well-furnished cabins equipped with private sun terrace and jacuzzi
Spacious rooms from 46 square meters to 74 square meters
Only 2 hours driving from Hanoi center on high way roads to the cruise
Only 30 minutes driving to Cat Bi Airport (Hai Phong)
Off the beaten track route visiting three bays: Halong Bay - Lan Ha Bay - Bai Tu Long Bay
Cycling in Hai Viet village (Cat Ba Island) on the second day (apply for 3 days tour)
Kayaking, swimming all included
Spectacular facilities: Mini golf course, starry mini cinema
Era Cruises are the luxurious and newest Cruises in Halong bay which is coming soon and promisingly becomes one of the well - known finest Boutique Cruises at the end of the year. We are the one of the first cruises company having iteneraries thoughout 3 bays (Ha Long Bay - Lan Ha Bay - Bai Tu Long Bay) under the permission of the local authority on board. The cruises offer special services such as spa, sauna, golf, cinema with finest furnishing to definitely satisfy highest expectation of travelers.
Vietnam Travel Center - Vietnam Read more... Hide
Choose your package & check rates now
Description
Era Cruise is one of the most luxurious and newest cruises which promisingly becomes one of the well-known finest Boutique Cruises in Halong Bay. Following the tour route in Lan Ha Bay, the cruise offers special services such as spa, sauna, cinema with finest furnishing to definitely satisfy highest expectation of travelers. We create perfect choices for travelers immerse super luxury and delight spaces. With amazing 5-star standard and well-trained crew, Era Cruise promises to bring you incredible services and truly memorable experience in Halong bay.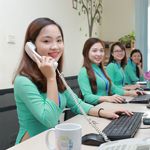 We are Inside Travel Experts. We know our land Best.
Let us help you!
We are always here to help you. Please kindly tell us anything about your trip: How many people, Style, Destinations, Duration, Departure date... We will send you the best offers quickly!
SEND US YOUR REQUEST