What travelers love about this cruise
Style: Modern luxurious style
One of the newest and most luxurious cruises in Halong Bay
One of the biggest in Halong Bay
Guarantee no rolling of the boat at all for sea-sick passengers
Private balcony guaranteed in each cabin
Perfect care-service: cater customers 24/24 any time throughout the cruise
Short transfer - ONLY 2.5 hours through the new highway roads
Operated by Paradise Group: TripAdvisor Certificate of Excellence 2015, 2016 and 2017
Not only visiting Titov Island - with amazing panoramic view of the Bay but also exploring Halong Bay's largest cave: Sung Sot Cave
Spectacular facilities: the most spacious spa facilities with a varied list of unparalleled spa therapies
Coming soon in July, 2016, Paradise Luxury Elegance Cruise & Spa is one of the most luxurious cruise in Halong Bay. This cruise is an ideal choice for customers seeking for high-end service. Being proud of famous brand in Halong Bay with 5 star cruise fleet equipped with luxurious and convenient facilities and modern combined with traditional decoration, Paradise Cruise promises to bring customers a wonderful voyage to remember for years.
Paradise Luxury Elegance Cruise - other... Read more... Hide
Choose your package & check rates now
Room Types
Max
Rates

Deluxe Balcony

Room with balcony

14 Rooms
Sea view
Double/twin
25 m²
Main deck

Check rates

More info »

Executive Balcony

Room with balcony

13 Rooms
Sea view
Double/twin
25 m²
Upper deck

Check rates

More info »

Elegance Balcony Suite

Room with balcony

2 Rooms
Sea view
Double/twin
35 m²
Upper deck

Check rates

More info »

Captain's View Terrace Suite

Room with balcony

2 Rooms
Ocean view
Double/twin
35 m²
Upper deck

Check rates

More info »
Promotion Packages with this cruise

View all
Description
Managed by the pioneering cruising company in Halong Bay, Paradise Group, Paradise Elegance Cruise is an outstanding brand in Paradise Cruises Collection, which is renowned by its exquisite service and high-end professionalism among Halong Bay Fleets. This cruise is an ideal option for anyone seeking a luxurious experience to Halong Bay, which will definitely bring to guests the exceptional touch for their fantastic voyage amid the World Heritage Site.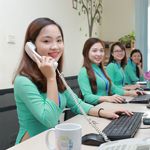 We are Inside Travel Experts. We know our land Best.
Let us help you!
We are always here to help you. Please kindly tell us anything about your trip: How many people, Style, Destinations, Duration, Departure date... We will send you the best offers quickly!
SEND US YOUR REQUEST